Montreal had not really come across my travel radar in my past as a city of great art and food. When my wife and I decided to check it out we scheduled a flight for her and I planned on driving. It wasn't until I went to the library for two travel guides that I started to get excited about the trip.
This being my first trip to Montreal I wanted to see as much of the food and art as possible. We walked at least five miles the first day through the Plateau-Mont Royal area and a bit of St Laurent where our rental house was. I was delighted by the multitudes of whimsical wall murals throughout our walk in the Plateau. These were like the golden age of underground comic book art of the late sixties and seventies. Whimsical and fantastical they graced the walls of many o building on our tramp through the city. I found no time for art galleries or museums so this had to do for my brief two and a half day visit.
The food scene was excellent and featured just about any cuisine I could wish for. We ate at a French restaurant called Bistro Duo D the first night for the fine dining portion of the trip, and it was excellent. The next day we were signed up for a food tour of the Mont-Royal neighborhood at 2:30 but managed to hit Schwartz's Deli and Juliette Chocolat café first. I skipped the famous smoked meat at Schwartz's and opted for their cole slaw. My partners in food follies did order the smoked meat and I snatched just a bite to confirm it was good. At Julliette's we had the best banana waffle money can buy and an out-of-this-world raspberry sundae. The sundae was a scoop of raspberry sorbet, a scoop of vanilla ice cream and gobs of whipped cream. There was also a side of raspberry coulis that when poured over the sundae produce groans of ecstasy from all three of us sharing this dessert perfection.
The food tour was a blur of a sandwich at Willensky's, bagels at La Maison de L'orignal Fairmont Bagel, an egg tart at Alati-Caserta and finishing at the Jean Talon Market in the all Quebec store where we sampled three cheeses and wine from Quebec. We only had twenty minutes to browse the market which I scouted for our eminent return the next day for cook-at-home dinner I had planned. After all, I couldn't visit the largest open air market in North America and not want to grab groceries from it to cook in our rental home.
Before heading back to our rental my companions wanted to try Le Banquise 24th famous for their poutine. Even though the menu sported forty kinds of the gooey-cheesy French fry specialty I wanted something else. Across the street was a Portuguese rotisserie chicken joint where I sought refuge from the heat and poutine. My companions ventured across the street to join the line of some twenty would-be poutine eaters to wait their turn for the local delicacy.
As I entered Ma Poule Mouillee I was gifted the most wonderful aroma of Portuguese flame grilled chicken making me instantly ravenous. The line was only about five people long and I was seated in less than five minutes to tear into my option #4, a whole chicken leg with fries and a green salad. At $8.00 CAD it was a bargain. I devoured the crispy-fragrant chicken and the green salad but only ate a bit of the mountain of fries they gave me. These locals must love their French fries because they are seen on many a menu in this city and they don't skimp! From my seat at the window counter I could see my companions just getting into the poutine place across the street a few minutes before finishing my meal.
When I had all I could eat I went across the street to see what all the fuss was about that so many would stand in line on a hot afternoon. It was hard to get inside through all the stacked up would-be customers but I made my way through and joined my companions. They had ordered but not yet received their poutine. When it came I tried a bite and don't see what all the fuss is about. If you are looking to put on weight this is the dish for you! It was just a regular size portion of fries and cheese curds covered in gravy and more than enough for two. I had only one bite and that was enough. Yes it tasted good, but not great. I was glad to have at least tasted it to satisfy my curiosity.
Back to the rental house we went totally filled up on Montreal's best, and not-so-good foods. We needed our rest since the next day would be a busy one. On that Monday morning, day three, we set off for the Botanical Gardens. Good thing to go early on a weekend or holiday as it did get busy later and we were glad to have missed the long entry lines. The Chinese and Japanese Gardens were my favorite. I especially loved the bonsai tree collection with the oldest being a pine 270 years old! The insectarium was great fun too and we loved watching the leaf cutter ant world where these busy insects go about their business inches away not caring about humans watching them.
After the gardens we ventured off to see the Old Port area. It was about ninety degrees and humid for our mission to find lunch there. We were greeted with throngs of bustling tourists and dozens of restaurant choices. The problem was the restaurants all seemed to have the same boring tourist-oriented menus of burgers, salads, poutine, pizza and other soulless crap. There had to be better lunch options somewhere. We were hungry but not desperate so we voted to go to the Mont Royal neighborhood to find better food.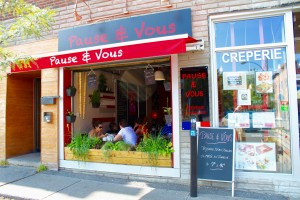 It was a good move as we found a little crepe café, (Pause et Vous) that served an excellent brunch. With only eleven tables this small café gave us one of the best food memories of the city. Maybe because we found it on our own without a guidebook or travel site, or maybe the food was that good? I loved the buckwheat crepe they stuffed with scallops, asparagus and dressed in a cider sauce. The bottle of French cider helped cool us down. Service was friendly and the price was less than $50 CAD for the three of us. Now we could venture to the Jean Talon market to buy dinner supplies without being in danger of buying too much food. Traveling hint; never go to a large open-air food market on an empty stomach!
The market was fairly crowded as we weaved our way around the food stalls buying potatoes, carrots, leeks, the best looking Brussel sprouts money can buy, chicken and foie gras. It made for a great meal back at our vacation rental paired with the two bottles of wine I brought. Later as we were sprawled out on the couch reminiscing on a wonderful first visit to Montreal it was satisfying we hit most of the sites that mattered. We marveled in the effectiveness of the Metro for getting us everywhere we wanted to go easily. We always felt safe and welcomed, and were already talking about a next trip. There will be a next trip because I must see the Park Mont Royal and find more of the excellent restaurants this vibrant city has to offer. Only thing I'd do different would be to come a week later to miss the holiday crowds.