Some of my best finds are those found when getting off the beaten path. On a recent trip to Oregon's Tualatin Valley for wine exploring near Portland, I had an appointment to taste wines at Montinore Estate. I was ahead of schedule thanks to a no-show earlier and used the extra time to drive past Montinore to see what was over the next hill. A few miles later I saw a sign that caught my attention. My wine exploring had taken me just into the famous Yamhill AVA, so I figured this was going to be great. The sign mentioned two winery choices, and I chose the closer of the two.
A three-mile drive up a narrow two-lane country road led me to Elk Cove Vineyards. The name Elk Cove came about when a herd of 40 Roosevelt elk decided the homestead was an excellent place to bed down during the winter of 1974. It's a fitting name for this winery in the woods that looks like a park. This family owned and operated winery was started by Joe and Pat Campbell in 1974. The abandoned farm and homestead at the foothills of the Coast Range Mountains turned out to be a perfect place for growing grapes.
I was smitten by the setting and views as I drove in slowly towards the tasting room. The vineyard sits in a bowl-like mountain refuge with the tasting room up top delivering almost 380-degree views. There were only two other guests when I arrived, and I was waited on quickly. I started with their pinot Gris, a lovely white wine showing crisp pear notes and a soft finish. Buying wine was not on my mind as I wanted to travel light and I hate to pay for shipping, but then the pinot blanc was poured. At that point, the idea of not purchasing wine went out the window. It was one of the best Pinot Blancs I've tasted in a while. The Pinot Blanc was a fruit-forward white wine that had a dry citrus finish. At $19 per bottle and only 10 cases remaining, I bought three bottles for the trip home.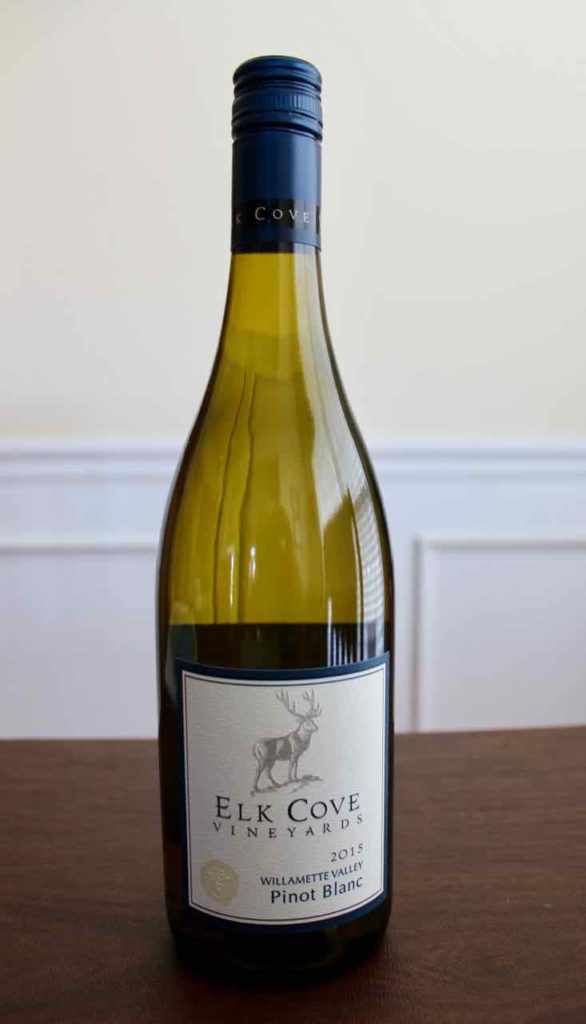 Moving on to the pinot noirs I tasted several of their single-vineyard and reserve vintages. Since I didn't take notes-hey I was off the clock- I don't remember which pinots I liked best. I do remember I enjoyed most of them enough to buy one or two should I ever come back on a wine-gathering mission. The pinot noir wines are a bit spendy with prices around $60 per bottle; no wonder I liked them!
I took a bottle of the pinot out to the deck for a photo op with blue skies above and green and yellow vineyards below. If I had more time to spare it would have been easy to kick back on this gorgeous scene of vines and mountains for an extended tasting. The deck has several tables and chairs with views most visitors will love. A tasting room flight will cost you $15 per person unless you belong to their wine club and then it's free. The tasting room fee is refundable if you by two bottles of any wine.
Tours and such for wine exploring near Portland Oregon
Elk Cove offers
Saturday
tours for $50 per person, by appointment only. Guests get a one hour tour and taste 4-6 wines. If you buy six bottles of wine the $50 fee is refunded. Wine club members can take the tour for free.  Check out the
Elk Cove
website for special events like the benefit for California wineries destroyed in the recent wildfires. I highly recommend visiting Elk cove and note they are open every day from 10-5 for wine tasting and purchases.
If your travels include wine exploring near Portland Oregon, you will be happy to know that Elk Cove is only about an hour away.