I first happened upon Corning, New York on a road trip to Ithaca in 2012. Before leaving home I picked a route on the map that looked the shortest and saw Corning was in my path. Knowing Corning was famous for glass I wanted to stop and see the town since I'd be driving right through it. I spied the Corning museum of glass when I did a Tripadvisor.com search in the 'what to do section', and  it was number one on my list making it a likely stop.
As the green mountain roads of northern Pennsylvania gave way to picturesque river valleys I drove into New York a few miles short of Corning. The Chemung River flows through town adding to the charm of this well preserved town. Once an important manufacturing area, it like many other rust belt towns has seen better days. However, Corning does have one of the most well preserved main drags, (Market St) I've seen in the U.S. Unlike many other small towns most of the businesses on Market St are fully functional and house several fine galleries, restaurants and other main drag businesses.
On my most recent trip, (second) I was to lay over on a drive home from Montreal to Baltimore and get a good meal and some well-deserved rest. After arriving I started my late afternoon of R&R by stopping at the Corning Museum of Glass to make my own night light in their glass studios. I had made one two years ago on a previous trip and wanted to try my hand at fused glass art again. I was the only one in that part of the studio on a Labor Day evening and received plenty of help from the staff. After twenty minutes of diligent work I left my night light in capable hands in the studio for its trip to the ovens and headed for Market St. If you chose to make your own glass piece do it on the first day of your visit so you don't have to pay to have it shipped to you home. It takes several hours to bake in the ovens and cool.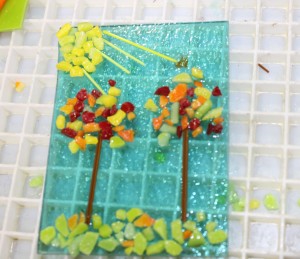 Strolling down what is known as the Gaffer District many a dining choice was to be had if… I had been there on a night other than Labor Day Monday. Still, there were at least six restaurants to choose from.  I had pizza on the brain and popped in to Atlas Wood Fired Pizza to try one of their specialty wood-fired oven pizzas. It was a bit slow and the three guys working the pizza production kitchen on the main floor entertained me while building and tossing pizzas. My veggie pizza came out of the oven right before my eyes and it was love at first sight! I often remark that pizza is the world's most perfect meal: as long as there is a glass of wine or beer to go with it anyway. I did of course have a glass of wine to go with it making it a meal to remember as I devoured my prize.
After dinner at Atlas Pizza I walked the main drag until I was pulled into Dippity Do Dahs ice cream shop. Before I left  home I had read the reviews and to try this place out while passing through town. I tasted the pumpkin and peanut butter  chocolate ice cream. Both were excellent. I opted for the peanut butter and chocolate and it was as good as any I have ever had. Loved the way the peanut butter was blended in just right. You know the type where you get peanut butter in every bite but not the huge globs that some brands have where you think you are eating peanut butter with a dash of ice cream? Ben the owner took a few minutes to answer my questions about his business and where they get the ingredients. I will definitely come back next time in town to see what new flavors are on offer.
As I walked back to the Radission Hotel Corning I felt ready for a good night's sleep before my five hour drive home the next day. Driving out the next morning I was already mentally planning my third trip so I can see the Rockwell Museum and make another piece of fused glass in the Corning Museum of Glass studio. I felt right at home walking this grand main drag with many of its 1880's era brick buildings still looking well. If you like charming towns of this era with excellent arts, food and wine Corning is hard to beat.